b: 29th July 1968
Sculptor/Power Carver
Raised in Australia in a large family of wickedly talented people it is no surprise that Angie has a life long and diverse background in the Arts. In 1997 Angie was to pick up a chainsaw for the first time in her life for the sole purpose of making art. She was immediately impressed with the tools potential and has been a full time 'chainsaw chick' ever since, with over 50 public art projects to her credit in the USA, the UK, Canada, Germany, and Australia.
Angie has been quick to come to the fore on the International Carving Circuit with her style, speed and accuracy being an inspiration to many carvers … especially the women … and she was the inspiration behind the first female only Chainsaw Carving Competition held in WA, USA in 2003 where her image was depicted on the medal. In 2007 Angie was a founding member of the international female carving team the 'Chainsaw Chix' who are currently carving the world over with more incredibly talented female artists filling the ranks every day.
Angie has won many awards for her Art and was the winner of the 2004 Australian National Chainsaw Carving Championships having taken second in 1999 and again in 2003.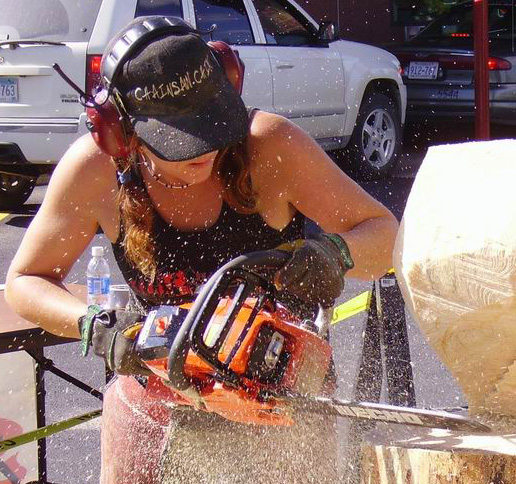 2004 also saw Angie carving for the first time as a 'Pro' place 3rd at the hugely competitive 'Power Carving' competition held in Reedsport Oregon USA.
In 2006 Angie was the first woman to take 1st in Scotland, and the first woman to place 1st at a Masters of the Chainsaw event in the USA.
Created with chainsaws, grinders and sanders, and finished with paint and marine varnish, Angie's timber sculptures will last for years to come and are suited for indoor or outdoor installation. Angie's personal style and bold use of color are what set her pieces apart from the rest. Each carving is unique with Angie sourcing her subject matter from life.
"People and nature are such great inspiration … real life is absolutely mind boggling … Anything is possible !!"